Tender and delicious, our jerky products are made from premium quality ingredients and are a unique combination of great taste and texture - second to none.
teriyaki teriyaki-spicy natural natural-hot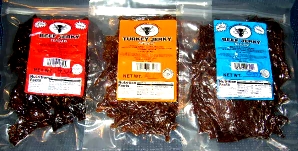 Try our products once, and you will keep coming back for more.
Our jerky is made from 100% solid meat without sodium nitrate or monosodium glutamate and is 96 percent fat free. Our packages are vacuum-sealed to ensure freshness and to guarantee optimum flavors.
The natural flavor jerky is sugarless contains a very low carbohydrate count (only 1 gram per serving) thus making it an ideal high protein and diabetic-friendly snack.
Our products can be ordered online - found in specialty shops - and at the following California certified Farmers' Markets: Beverly Hills, Corona Del Mar, Culver City, El Segundo, Huntington Beach, Los Angeles Downtown, Pasadena, Palos Verde and Studio City.